The container is fitted with onboard sensors, which will monitor aspects such as battery usage and capacity, water supply, temperature etc. The values received from these sensors will not only be displayed on the internal analogue panel (see the image below), but are also be passed to the onboard computer which will broadcast them via a satellite link to the server in The Netherlands. These values are then be converted and displayed graphically on this website.

CLICK HERE TO VIEW LIVE DATA FROM THE CONTAINER
GEOGRAPHIC LOCATION OF THE CONTAINER
LIST OF ALL SENSORS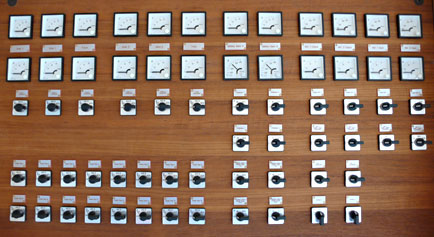 Internal analogue gauge and manual switch panel mounted within the container.
RETURN TO FACTS & FIGURES